Customized QR Codes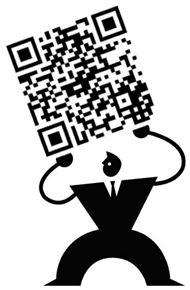 QR Codes have become such an incredible marketing tool for businesses. Even though encoding a URL is commonly the primary tool for QR Codes, there still remains a lot of creative flexibility within the data for each code.
This data can be coded into simple 2-D "barcodes" that perform elementary functions including taking a user directly to a website, providing contact information, sending an SMS text message and so much more.
For example, scan the QR Code to the right and see what you get.
Typically, a standard stock QR Code is usually black and white and fairly boring. J D Web Designs can tweak your current QR Code, or create a new one, to include your logo, custom color schemes and much more.
Our services include test scanning during the development of your code to ensure your design is optimized for the best scan compatibility. Once we are done, we provide you with high quality, high resolution files of your QR Code so it can be put it on everything from a business card to window stickers and any size imaginable. We can even provide a file to accommodate a large sized QR Code for a banner or other promotional media. All that is required is to send us the dimensions that you need and once you receive the file from us, you can take it straight to the printers. It's that simple.
If you or your company is genuinely looking for new ways to engage your target audiences, or offer a unique opportunity to bridge online and offline media, feel free to contact us to discuss the design of your own custom QR Code.
If you are still unsure that you need a more eye-catching QR Code, below are some examples to look at.